Spirit Cancellation Policy: How to cancel spirit airline flights and get a full refund every time? Well, almost everyone is concerned about getting a refund from the airlines. After the flight cancellations.
No matter, which airline you choose to fly. Some changes and cancellation policies are always there. If taken care of, while making canceling a flight ticket. That can help you get a full refund from the airlines every time you fly.
Don't Miss:- United Airlines Cancellation Policy
The same is the case with Spirit Airlines as well. Although we know that spirit is one of the most preferred Ultra-low-cost carriers in the USA. But to maintain its position in today's competitive market.
Spirit Airlines created some unique changes and cancellation policies. So that the passengers can benefit from it. Now let's see how it can benefit Us?
Latest Update:-
Make free changes and cancellations with Spirit Airlines for all the flights booked by February 28, 2021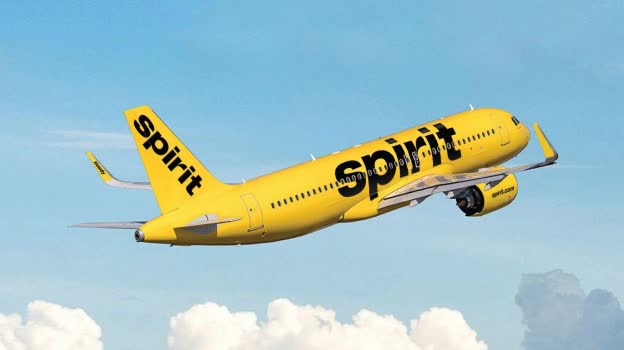 Also Read:- Spirit Airlines Unaccompanied Minor Policy
Spirit 24 Hours Cancellation Policy For 2021
Well, almost every airline in the USA has a risk-free cancellation period. So is with the spirit airlines as well. Spirit has 24 hours risk-free cancellation window.
As per that, Any passenger can cancel the spirit airline flight ticket within 24 hours of making reservations and ask for a full refund. But your scheduled flight must away from 7 or more days.
That means, As per the Spirit Cancellation Policy. If your flight is scheduled for the next 24 hours. Then you may not be eligible for a full refund Until specified by Spirit Airlines.
But you can ask to change it in the last 4 hours prior to your flight. However, you may have to pay the change fees and the fare difference as well.
But you also have to take care of the type of ticket you are getting while booking a flight with spirit airlines. Because not all the ticket types are eligible for a full refund.
Also Read: Spirit Airlines Pet Policy
Do Spirit Airlines Have Refundable Flight Tickets?
No, Being an Ultra-Low-Cost carrier. Spirit does not provide any refundable fare just to maintain its low-cost-carrier tag. But if your Spirit airline cancellation falls under the below conditions.
Then you can certainly get a full refund. Even after the 24 Hours risk-free cancellation period. The Situation Are But Not Limited To:-
Book Now: Cheapest Flights To Puerto Vallarta
Spirit Airlines 24 Hours Risk-Free Flight Cancellation
This is the first chance and prime opportunity for getting a refund for your non-refundable flight tickets. If there is a plan change or anything un-expected is there with you.
Then to get a complete refund. You must have to cancel spirit airlines flights within 24 hours of booking.
failing to which can forfeit the entire value of the ticket purchased with cash or points.
Grab Now: Air Canada Flight Booking Deals
Spirit Cancellation Policy In Case Of Death Or Illness
If there is any uncertain situation occurs in the family or with the passenger. That may lead to a death or illness of any of the family member or the passenger himself.
The Situation may occur before or during the journey. In this case, As per the Spirit cancellation policy. The passenger can ask for a full refund. But he/she must have to submit the death certificate of the family member.
In this case, if the passenger died before or during the journey. Then unused portion or equal value of the ticket can be refunded to the original form of payment.
But you must have to attach the death certificate, ID card, and other personal details and send it to the spirit airlines customer service email.
Pro Tip:- You must add travel insurance while making spirit airlines reservations. That can save you from paying more while making changes or cancellations.
Spirit Cancellation Policy For Bad Weather Conditions
If spirit airlines canceled its flights due to bad weather conditions. Then a passenger can certainly ask for a full refund.
However, the airline will provide a seat to the passenger on the next available flight. or the flight of the passenger's choice.
However, to get a full refund. You have to call spirit airlines customer service @ +1-855-728-3555.
Must Read: Volaris Cancellation Policy
Spirit Cancellation Policy And Fee [Standard + Award Ticket]
After the 24 hours risk-free cancellation period. A passenger may have to pay the cancellation charges. Irrespective of the tickets booked with either cash or points.
For Standard Tickets:-
USD $90 If A Passenger Cancels It Online Through Spirit.com Website Or App.
USD $100. If You Want To Cancel It Over The Call With Spirit Airlines Customer Service Agent.
For Award Tickets:-
USD $110 Per Passenger On A PNR. The Cancellation Fee Will Remain Same. Irrespective Of The Mode Of Request. That Is Online Or Offline (By Calling Spirit Airlines Customer Service).
Note:- Refund to the original form of the payment is only possible if a passenger requests for a refund within 24 hours of making reservations. Failed to do the same may result in the issuance of the future credit only.
Don't Miss:- Southwest Airlines Sale $69 Flights
How To Cancel Spirit Airlines Flights Tickets Online?
Simply visit Spirit.com.
At The Home Page, On The Flight Search Form. Look For "My Trips" Option.
Enter The Passengers Last Name And Confirmation Code.
After Login. Hit the "Cancel" option.
Select The Reason As Per The Spirit Cancellation Policy From The Dropdown.
You Must Check The Email ID And Phon Number Before Pressing the "Submit" button.
Then press "Submit". A Detailed Screen With A Refund Breakup Will Appear. That Displays How Much Refund You Will Get.
Kindly Note The Refund Amount And The Request Reference Number.
You Must Also Check Your Email ID and Phone Number And Confirm If You Received All The Details Regarding The Refund Request.
Note:- As per the Spirit Cancellation Policy. The process of canceling an award ticket and a standard will be the same. However, the cancellation charges may be different depending on the situation. A passenger is going through.
Must Check Out:- Are Volaris Flight Tickets Cheaper Than Spirit?
How To Cancel Spirit Airlines Flights Tickets Offline?
You can the Spirit Airlines e-ticket counter or kiosk at the airport itself.
You can call spirit airlines customer service at +1-855-728-3555.
A passenger can text Spirit Airlines at 48763 for cancellation.
To speak to a live person at Spirit Airlines. You can WhatsApp At 801-401-2222.
What If Spirit Airlines Cancelled My Flight?
In the case, If Spirit Airlines canceled your flight. Then the airlines will send you the full refund of your ticket. But the refund may be in form of future credit. That a passenger can use toward the up-coming travel.
Can I Fly On A Later Flight Or Change My Origin Or Destination?
Yes, you can simply change or cancel your spirit flights. If your travel plan had been impacted by the COVID 19. Then Spirit Airlines will not charge you any cancellation fee for the same.
Note:- If you are using offline mode for canceling spirit airlines flights tickets. Then please make sure that the refund calculation will be as per the Spirit cancellation policy only. But Do not forget to note down the Refund amount and reference number for future use.
Also Read: Book Volaris Flight Tickets
Spirit Cancellation Policy Inside Information
Spirit Airlines reserves all the rights to cancel any flight ticket or seat assignment without any prior notice to the passenger(s) under certain terms.
But before moving to the terms of cancellations. Please note that any passenger traveling in domestic sector or International sector. If get refusal of transportation from Spirit Airlines.
Then as per the cancellation terms, the passenger will not be eligible for denied boarding compensation.
Terms & FAQ Of Spirit Cancellation Policy
For all domestic flights, passengers must be present at the airport at least 45 minutes prior to the actual scheduled flight. But also make sure to carry your boarding pass with you.
For all International Flights, the time to be present at the airport is at least 60 min prior to the actually scheduled flights. That also with your boarding pass in your hands.
What Is Spirit Airlines Boarding Policy To Prevent Cancellation?
For Domestic Flights: A passenger must be present at the boarding gate at least 15 minutes prior to the originally scheduled flight.
For International Flights: The time to reach at the boarding gate is at least 30 minutes before the scheduled flight.
However, please make sure to be at the correct boarding gate as per your flight sector. Despite how early you checked-in for your flight.
But in the event of a flight delay, Spirit Airlines requests all the passengers to remain inside the boarding gates. So that you will be able to get the latest updates regarding the next possible flight departures.
However, Spirit Airlines shall not be liable for any compensation, for a canceled flight or for a flight departed earlier than the announced delay departure time.